Jersey City is proud to be one the most culturally diverse cities in the world. Originally it was home of the Lenape tribes, and was later settled by a large Dutch population in the 1600s.
With its harbour encompassing the world-renown Ellis Island, Jersey City has been a welcoming refuge for immigrants, and a hub for freedom and equality-seeking masses over the centuries.
Historic Central Railroad of New Jersey Terminal (CRRNJ) was one of our first stops as we made our way to Liberty State Park.
This modern multicultural city is the second largest and most populated in New Jersey. Its shoreline runs parallel to Manhattan on the other side of the river and residents share many of the same transportation systems and area resources.
One of my best friends lives nearby and she graciously took the afternoon off to show me around me during a six-hour layover.
Liberty State Park
We met in Liberty State Park and walked along the river to Ellis Island, just behind the Statue of Liberty. The park holds over 1200 acres with an abundance of wild and cultivated plants along the Hudson River, making it a great place to watch birds and the boats cruising along the river.
New York City looks so different from this side of the river.
Empty Sky Memorial
The New Jersey 9/11 Empty Sky Memorial  stands to commemorate those who lost their lives in the tragic terrorist attack on the World Trade Center, the Pentagon, and Flight 93 Shanksville in September of 2001.
Empty Sky consists of two 30-feet high steel structures and uses a combination of lighting and depth illusion to draw your attention the void in the sky left by the attack. Between the structures is a list of names and other information about the victims.
Photo below is shared from NJ911Memorial.org
The Jersey Devil (Sandwich)
After a couple hours we were feeling somber, hot, and hungry, so we stopped by City Diner for lunch. We split two different local specialties; the open-faced cheese-smothered corned beef/pastrami Reuben, and the infamous Jersey Devil Melt.
This fluffy croissant is loaded with spicy deviled egg salad, cheddar cheese, and New Jersey's pride and joy, Taylor Ham. Known also as "pork roll," Taylor Ham is a lot like thinly sliced bologna that is browned and slightly crisp on both sides.
Miles better than spam and grocery bologna, but still not real ham. The Reuben was delicious, of course.
The Jersey Devil Himself
New Jersey's most famous cryptic, namesake of the odd little sandwich, is the Jersey Devil. It is also called the Leeds Devil after its family surname.
A towering chimera with a horse-like face, horns, a vicious tail, giant bat wings, cloven hooves, and according to various descriptions, a kangaroo-like body or goat face. There are many, many differing accounts.
Image below shared from HowStuffWorks.com: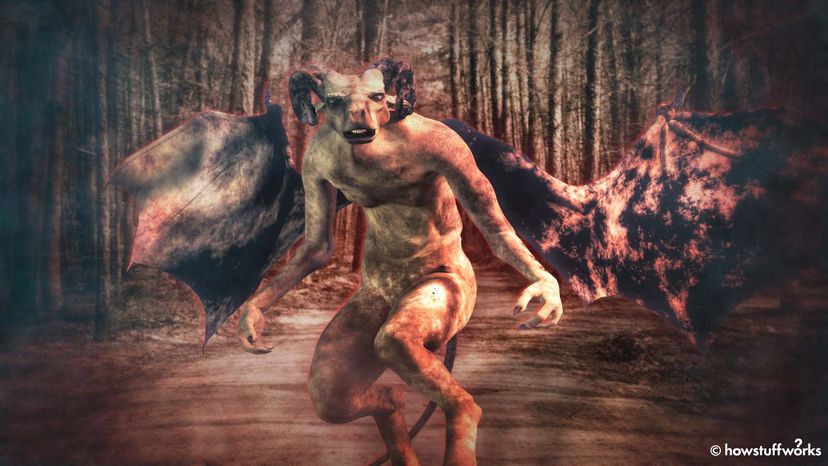 Legend has it that a local woman cursed her unborn child after already struggling to care for the twelve she had, and once birthed, it killed its family, screeched horrendously, and flew off into the marshes.
People of the densely-forested Pine Barrens community have reported sporadic appearances over the last few centuries, claiming that it flies in to torment them and lay curses upon the land.
Despite questionable validity and so many diverse descriptions, one things rings true; do not camp or wander alone in the Pine Barrens. There is a never-ending list of reports and stories of sightings and fearful encounters even to this day.
Check out the WeirdNJ site for more of New Jersey's odd lore and offerings, or book a Jersey Devil history and walking tour with Paranormal Books or Jersey Devil Tours.
More Odds & Ends
My other picks for Jersey City include Liberty Science Center, Kanibal & Co Taxidermy and Gifts, the Museum of Russian Art, the historic Harsimus Cemetery, and of course be sure to visit Ellis Island and the Statue of Liberty.
In the area for a while? Cool. I'm off to Germany though, so follow me to Munich.
*************
© Fernwehtun, 2015- Current. Unauthorized use and/or duplication of this material without express and written permission from this site's author and/or owner is strictly prohibited. Excerpts and links may be used, provided that full and clear credit is given to Fernwehtun and Fernwehtun.com with appropriate and specific direction to the original content.