Oliver Springs is a small town in East Tennessee but its territory spans parts of a few different counties. It was first known as Winters Gap, founded in 1821 and named after its first white settler, Major Moses Winters. He had already been living there for around two decades.
Today, one of the main roads in Oliver Springs is named Winters Gap in his honour.
RICHARD OLIVER
Richard Oliver became the first postmaster of Winters Gap in 1826, so the town was renamed to Oliver Springs.
Oliver was the first to capitalize on the town's natural mineral springs. The Cherokee who originally lived in this region named it "healing waters" in their language.
He built a 35-room resort, extravagant for the 1830s, and advertised the healing properties of the springs.
JOSEPH RICHARDS & THE OLIVER SPRINGS HOTEL
In 1873 a man named Joseph Richards bought Oliver's land and later built a larger 150-room resort hotel in place of Oliver's.
For two decades, his Oliver Springs Hotel was known nationwide for being a mineral springs resort for healing and luxury, aided by the installation of major railroad lines for transportation to and from the town.
Then it burned.
Richards did not have sufficient insurance to rebuild, and for some unknown reason the springs were covered up.
Modern land surveyors have been able to determine where they were, but there has been no successful attempt to unearth and reutilize the springs.
WINDROCK, COAL, & MINING
Windrock Coal & Coke Company started operated mines in Oliver Springs around 1904 and it became a typical railroad/mining town. Not much changed for a few decades.
If you visit Oliver Springs today, downtown looks much like it did in the 1800s.
And the 1900s.
And fifty years ago.
And twenty years ago.
TROUBLE FOR THE RICHARDS FAMILY
Joseph Richards and his family had immigrated from Wales in the late 1840s with a background working in the mills. He built an 18-room Victorian mansion for his family in 1893. It was extravagant even by modern terms.
Meanwhile, Richards had began to earn the scorn of his community. He had been renting one of his properties to a family whose veteran husband passed suddenly and when Richards evicted them with little mediation or notice, his neighbours did not view him kindly.
Some people in the community disapproved of the Richards family's flamboyant displays of wealth.
Neighbours also disapproved of his "spinster" sisters' rapport with the Black/African Americans in the town, as the women had a reputation for providing them generosity, friendship, employment, shelter, and assistance while legal segregation was still a thing.
A cousin named Mary "Mamie" Richards-Sienknecht had been pursuing the Richards siblings in court for property rights after their grandfather passed and she did not agree with his will terms, but to no avail.
While the Richards sisters were teachers, known for kindness and giving, charitable donations, volunteering, beloved by their church and schools, Mamie did not feel it was fair that they had the family mansion and other assets all to themselves.
It was later discovered that a pair of convicts had been released from the nearby high-security Brushy Mountain State Penitentiary just days earlier, and had been spotted at the Oliver Springs station after the murders.
Cigarette butts were found scattered all over the inside of the Richards Mansion on the day of the murders, but the Richards family were non-smokers.
The image below is shared from the Oliver Springs Historical Society website, I have no rights to it.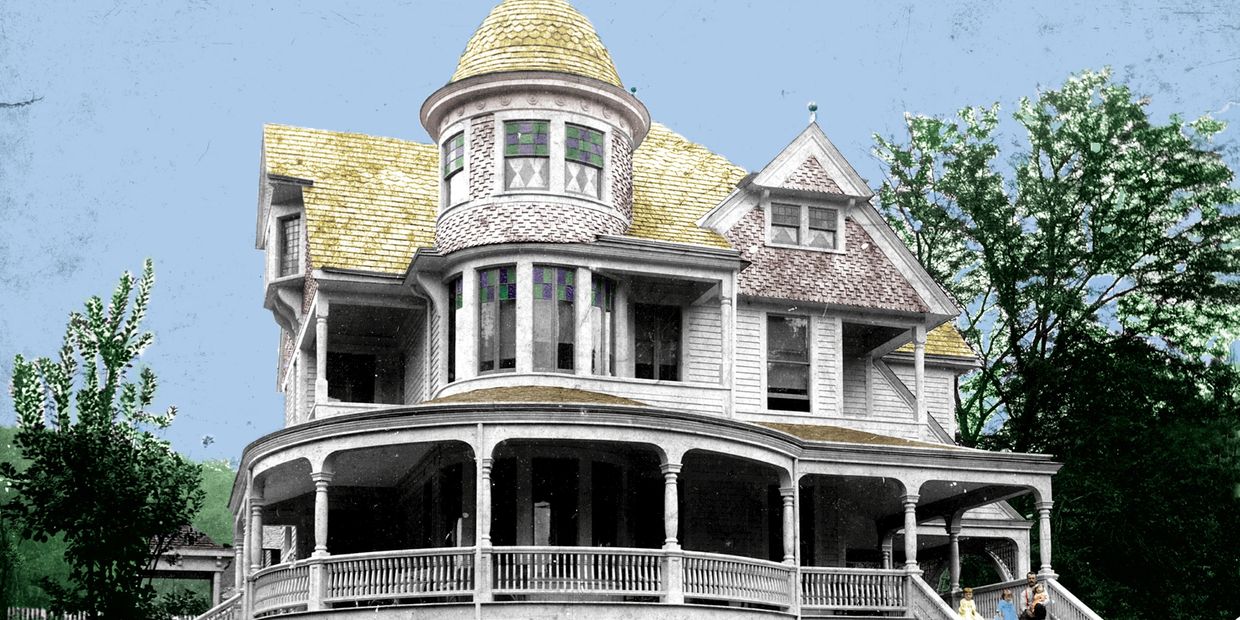 AN UNSOLVED MURDER
All of these variables created a storm of odds stacking against the Richards family.
In February of 1940, two of Joseph's sisters, Margaret and Ann Richards, were found murdered in their home. With them, a Black/African American teenager named Leonard "Powder" Brown they had befriended and employed was found murdered.
Investigators determined that Margaret, Ann, and Powder had all been shot at close range. Members of the local KKK blamed Powder for the murders, though he was also murdered, and threatened to drag Powder's dead body through the streets if they got their hands on him.
Mary Richards, the third and surviving sister of the Richards family, had him quickly and secretly buried to prevent that.
Joseph sold the home to the American Legion and, separately, he and his sister Mary moved away from Oliver Springs. Over time the whole situation was swept under the rug and people refused to talk about it, but something just never sat right.
It is a mystery that remains unproved even now in 2023, but some of the primary suspicions have gained definition. Powder was officially declared innocent and given a proper grave market.
Read more about the Richards Mansion murders, developments, and an astonishing account of a witness who recently came forward a couple years ago by reading Danita Ashley's book Murder by the Springs: The Unsolved Mystery of Oliver Springs -1940. Whew.

OLIVER SPRINGS HISTORICAL SOCIETY
You can read the story of Oliver Springs, its founding, its coal and mining history, and the Richards family history at the Oliver Springs Historical Society.
Visit them in person or visit their website where I gleaned most of my information in this blog.
The Oliver Springs Historical Society makes its home in the historic Abston Garage Building at 301 Kingston Avenue.
T. F. Abston was an electrician and mechanic who moved to Oliver Springs and built his coal fired power plant here in the early 1900s.
He also provided automobile and some railroad services in his garage, Oliver Springs Motor Company, to accommodate the growing popularity of personal vehicles and railroad traffic in the area.
Abston opened his garage to the community as a church, bus stop, movie theatre, and to offer assistance to those in need during World War II.
The building is on the National Register of Historic Places and the Oliver Springs Historical Society is working to convert into a lively community events center and gallery.
COLD WAR
The period of stagnancy in Oliver Springs changed after World War II and at the start of the Cold War, when the US Government bought up land in Oliver Springs and surrounding territories.
Officials began building shelters and facilities for the Manhattan Project, which was still top secret and unheard of in those days.
You can read more about that and the Manhattan Project in my blog Secret City of Bombs & Mud.
Below is an image of a stained glass ode to the Oliver Springs Hotel, displayed on the Abston Garage.
HISTORIC BUILDINGS
In addition to the Abston Garage, many of the original buildings in Oliver Springs are still standing.

H.C. SIENKNECHT DEPARTMENT STORE (AKA OLGA COAL COMPANY)
One of the most prominent buildings in the Oliver Springs historic downtown area is the old H C Sienknecht Department Store  at 460 Main Street.
This tall red brick monarch of a building has arched windows and is easy to spot.
Sienknecht's father, also a doctor, immigrated the family to Morgan County in 1838 to practice medicine.
Young Sienknecht served in the Confederate army, married a local girl, operated his medical facility, and opened a country store.
He eventually settled into Oliver Springs after buying an old hotel and remodeling it as his home.
It was later demolished and his new home was built where the home of Dr. Jessie & Ella Sienknecht-Hayes stands on Roane Street today.
The H.C. Sienknecht Department Store was first built and opened in 1901 on Main Street at the Southern Railroad tracks.

Its façade currently says Olga Coal Company because it was used as a location in the film October Sky.
Olga Coal Company is not a real business that existed in Oliver Springs, but it has been left painted this way to promote tourism.
Notice the sign in the window in the photo above, and keep your eyes open for small tributes to the film in various locations around town.
OLIVER SPRINGS BANKING COMPANY
The H.C. Department Store was briefly the home of the town's first bank, Oliver Springs Banking Company, until its own building next door was finished in 1904.
The building went through a series of changes in the following decades and was used as other banking companies, retail stores, and residential apartments.
It was also the setting of Union Hall in October Sky.
Today it is privately owned and in serious need of repair, but has been added to the National Register of Historic Places.
This unique building has a lower level with yellow brick, twin arched doorways on either side of its square storefront window, and an upper level made of red brick.
It looks small from the front but it is actually quite large.
On a different day, in a different season, I took this photo of the building's side:
OLIVER SPRINGS DRUG COMPANY
The old Oliver Springs Drug Company is another prominent red brick building by the railroad tracks.
Dr. Asa Kelly Shelton was a beloved medical physician in the community.
He worked as staff physician at the Brushy Mountain Prison and the Oliver Springs Hotel, owned several local properties, and married the daughter of Joseph Richards. She was named Mary, after Joseph's younger sister.
Dr. Shelton promoted the healing properties of the town's mineral springs as part of his practice, which supported the success of his father-in-law Joseph's famous hotel.
This building passed through the hands of various medical doctors and pharmacists over the years and still stands almost a century later.
WILLIAM P SMITH FINISHING SCHOOL
The former William P Smith Finishing School still stands at 115 Morgan Street.
Smith was a minister and teacher who settled here in the 1880s and built this "finishing school" that he called the Smithsonian Institute.
Mary "Mamie" Sienknecht was one of its attendees.
It has been privately owned for decades.
KHOTAN DEPOT
The former Khotan Depot is now the Oliver Springs Public Library & Archives. It was built by the Southern Railroad in 1896 and was also known as the Oliver Springs Railroad Depot.
ANOTHER UNSOLVED MURDER
Dr. Joseph Augustus Sienknecht was another member of the great Sienknecht family.
He married Joseph Richards' cousin Mamie, the same one who tried to battle him in court. The couple lived at 217 Main Street.
"Dr. Joe" died under suspicious circumstances. Allegedly he fell off a bridge and died on the way to work one day, but his brother insisted he was murdered.
His personal belongings and watch were missing, but his keys were randomly found a few days after his death. This remains another unsolved murder in Oliver Springs.
Mamie lived another fifty years after Joe's death. She had her hands in many of the town's businesses and official affairs. She eventually sold Joe's medical office (below) as well as their home.
Weird how her name keeps popping up.
MARY ELLEN WILEY HOUSE
This house at 303 Kingston Avenue was recently purchased by the Oliver Springs Historical Society with renovation plans.
Wiley was the daughter of Henry Wiley, and the Wileys were one of the most notorious families in both Oliver Springs history and the region's mining industry.
She devoted her life to the family business, never married, and left her home to her nephew Thomas and niece Elizabeth.
COLONIAL HALL
The oldest home standing in Oliver Springs is THE 1819 Colonial Hall at 104 Morgan Street.
It is hard to see due to all of the foliage unless you trespass, and I did not feel like trespassing on this day.
GEORGE PARNELL HOME
George Parnell was a lumberjack an sawmill operator and the one of Oliver Springs' first Aldermen.
His family's home at 315 W. Spring Street is privately owned by another family now, but his children and grandchildren went on to be well known philanthropists and supporters of the University of Tennessee.
The Parnell family continues to be successful in the banking, oil, and lumber industries.

I used the Historical Property tab on the Oliver Springs Historical Society website to locate and learn about each historic home in Oliver Springs.
It divides the most significant historical properties by the street they are on, but there are many more historic homes in town.
Alternately, you can easily identify each house by reading the uniform green signs in the front yards, but they only show when the home was built and which family owned/owns it.
The photo below shows an example.
OLIVER SPRINGS CEMETERY
The Oliver Springs Cemetery off Cemetery Road is one of many graveyards where Oliver Springs founders were laid to rest.
Among them are George & Sarah Parnell.
RUBY'S DINER
To our surprise, the diner inside this old building is still in business!
It looks like it might blow over in the wind at any moment, but the staff at Ruby's Diner is sweet.
The menu is limited and simple but the food is perfectly done.
We tried the biscuits and gravy, scrambled eggs, hash browns, sausage, and toast- basically everything on the menu except pancakes because we were too full.
You can also stop at the Windrock Snack Shack or Hibachi Pizza outside of downtown, but the joy of finding one of these old historic buildings that we could actually go inside and look around was exciting.
The rest of Oliver Springs often feels like a ghost town, and I have visited several times now.
There are a few shops along the tracks but they were not open. You can spot them by the recent colourful paint job.
WINDROCK
One of the main attractions to Oliver Springs today, aside from extreme October Sky fans, is to Windrock Park.
It is known for being the Southern region's premier off-road adventure park and has campgrounds as well as other activities.
I have never been in a side-by-side but ran with some of them during our brief stint as members of a local Jeep Club.
Maybe one day we will go rent some and tear it up. For now I think I will be content to sit and watch October Sky for the first time.
In the area for a while?  Follow me to Oak Ridge, tour the Manhattan Project Site, or check out the rest of Morgan County!
********************
© Copyright Fernwehtun, 2015- Current. Unauthorized use and/or duplication of this material without express and written permission from this site's author and/or owner is strictly prohibited. Excerpts and links may be used, provided that full and clear credit is given to Fernwehtun and Fernwehtun.com with appropriate and specific direction to the original content.