If you find yourself in Munich/München for a day or two layover and want an efficient route to see some highlights, or are visiting for the first time and do not know where to start, I've got you.
If you are into medieval history, gothic and classical architecture, war/dark tourism, touring opulent churches and royal palaces, or just looking to indulge in a completely hedonistic holiday with every type of sensory stimulant you can imagine, I've got you.
My song for this post is Sabrina by Einstürzende Neubauten:
In the 1200s, the people of München began to fortify the city by building walls connected to heavily guarded gates that centered around Altstadt's central square, Marienplatz.
München was becoming a continental trade center and soon began having issues containing its population within one square mile of walled territory. Between time, overpopulation, expansion, and being bombed out during war, the walls began to crumble and were torn down.
Below: Public Domain photo shared from Wikimedia.org, which credits Mattäus Merian, 1642. 
FULL CIRCLE
To walk a misshapen circle around the historic district Altstadt (Old Town), you could start with a tour of the Residenz. Afterward, make your way south then east to three standing gates of Karlstor, Sendlingertor, and Isartor, stopping at various sites as you return to the Residenz.
This is a route I have taken myself several times, though there are countless alternatives. I will include specific walking directions via Google Maps at the end of this entry, but feel free to put together your own itinerary and keep your eyes open for interesting stops along the way.
1. RESIDENZ
House of Wittelsbach monarchs of Bavaria ruled from the 1100s through the early 1900s and resided here in the Residenz.
Wittelsbach Dynasty contributions to Altstadt quickly developed its reputation all around Europe for having an abundance of opulent museums, impressive architecture and gardens, and festive beer halls.
You can tour the property of nearly a dozen courtyards, over a hundred rooms, the Hercules Symphony Hall, Byzantine Court church, the Hofgarten, and countless exhibits. 
I found a video on Youtube that shows quite a bit of it:
The Residenz is also the main venue for the Bavarian Radio Symphony Orchestra.
2. ODEONSPLATZ AND THE FELDHERRNHALLE
Odeonsplatz (Odeon's Square) was once the political capital of the Nazi party, and where the disastrous Beer Hall Putsch took place. This is not a celebrated fact in München, so do not expect to find any advertisements.
Inside Odeonsplatz there is a gigantic structure called the Feldherrnhalle (Field Marshall's Hall), guarded by two lions. The lion on the left stares boldly toward the East with its mouth open, symbolizing free speech.
On the right, this lion sullenly toward the West from a more Eastern angle, one might imply the Eastern Bloc, with his mouth sealed shut.
Dark history aside, Odeonsplatz is beautiful. King Ludwig I was enamored with Italy and commissioned the square in the Italian neo-classical style.
The Feldherrnhalle itself is a replica of the famous Loggia dei Lanzi in Florence, and was constructed in the 1800s as tribute to King Ludwig I and his Bavarian army.
Be sure to stop by the Theatinerkirche (Theatine Church), the massive turmeric-hued church in the photo.
Below: Photo shared from Neumann & Müller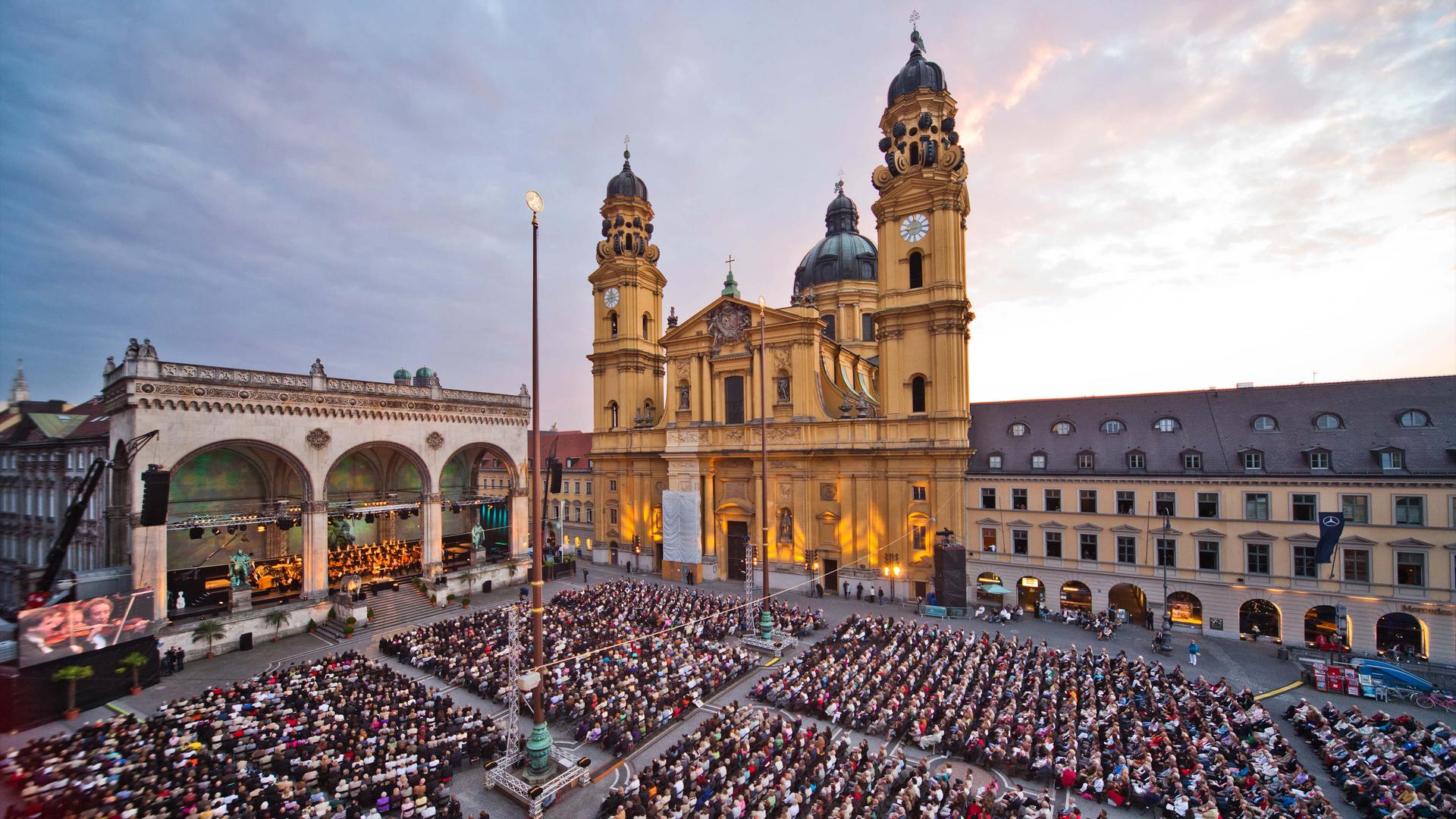 3. MAXIMILIANPLATZ / ALTER BOTANISCHER GARTEN
Maximilianplatz (Maximilian's Square) is a small public garden packed with monuments and memorials, and is a lovely route to take on your way to the incredible Alter Botanischer Garten (Old Botanical Garden). Then you can make your way to Karlstor, the first of München's three city gates.
4. KARLSTOR (Karl's Gate)
Here in Karlsplatz, known locally as Stachus, there is an interactive water fountain in warm months and an ice skating rink for the colder ones.
A mix of high-end and local businesses surround Altstadt in every direction so be prepared to do some shopping.
Karlstor takes its name after Bavarian elector Karl Theodor who finally pulled down the suffocating city walls in the end of the 1700s and allowed the people and their trades to flourish.
One of the three original towers of Karlstor was accidentally destroyed by gunpowder explosions a few decades later.
Der Silberne Mann (the Silver Man) is a popular and regular street performer that I have seen near Karlstor many times now. Most visitors think he is one of München's many monuments until they catch a subtle wink, or he starts pranking kids for a laugh.


5. ASAMKIRCHE
From Karlstor, walk to the Museum of Urban and Contemporary Art or visit the Asamkirche, formally known as the church of St. Johann Nepomuk.
This gorgeous chapel is a late Baroque gem built by the brothers Cosmas and Egid Asam over the period of thirteen years.
Before the brothers began building in 1733, they demolished two of their four neighbouring family houses and built the church for private use between the remaining two houses.
Due to incessant pressure from the public, they were forced to open the doors of their private family sanctuary to the public to use as a place of worship.
Asamkirche is only about 72 x 26 feet of space but has two stories, seven confessionals, and is unbelievably ornate. The chapel is still used for services and it is open to visitors outside those hours.
6. Sendlingertor
From the Asamkirche, visit Sendlingertor, the oldest city gate. It was finished in 1318 but has been renovated, condensed, and expanded multiple times since.
The Sendlinger Tor train station is right by the towering gate, as well as the Springbrunnen fountain and Nussbaum Park & Biergarten.
If you feel like wandering down Müllerstraße about 0.2 miles, visit the Loretta Bar, a lovely place my friend took me on a tour of neighbourhood whiskey bars and boatzn dives like Zum Wolf over on Pestalozzistraße.
At Loretta Bar, we watched them use smoke boxes, set fires, and do all kinds of fancy things to our whiskeys.
Below: Photo shared from Loretta-bar.de
From Sendlingertor, walk to the Judisches Museum and the Munich Stadtmuseum, and from there, it is a short jaunt into Viktualienmarkt.
7. Viktualienmarkt
What began as a medieval town market has now flourished into a gourmet foodie heaven. Victual, the Latin word for food, and Markt, the German word for market, really says it all.
The town marketplace was held in Marienplatz until 1807 when it became too big to be contained, and the King had it relocated to Viktualienmarkt.
Most cities have a farmers market, and I have visited them all over the US, but this one is the most impressive in size and diversity so far.
Here you can find fruit and vegetable booths, traditional butchers, hearty meals, snack stands, dairy cases, beer halls, freshly baked bread and pastries, candies, and gifts.
Make your rounds, purchase what you like, find an open spot in the Biergarten, and enjoy your meal with old and new friends.
You can also find homemade bath and body products, balms, salts, cosmetics, accessories, and a lush build-your-own bouquet stand.
8. Marienplatz
Mary's Square has been the central downtown city square since the 1100s and holds the annual Christkindlmarkt Christmas market each year.
Below is a photo I took from the top of Peterskirche, looking out over Marienplatz and Altstadt.
Marienplatz was originally called Schrannen, later changed to Marienplatz to beg favour with the Virgin Mary to protect the town from a cholera epidemic.
During the 1972 Munich Olympics, Marienplatz was restricted to pedestrian use, as it has remained since.
Regardless of which gate or side street you enter Marienplatz from, one of the first things you will likely notice right away is the Neues Rathaus, a stunning Gothic castle that simply serves as the "new" Town Hall.
Neues Rathaus is nearly 260 feet tall and was designed/built by Georg Joseph Hauberrisser across a period of over forty years, at last completed in 1909.
The Rathaus has a Glockenspiel that puts on a show at 11:00 am and 12:00 pm each day for 15 minutes.
During nice weather, heavy tourist seasons, and other special times, you can also see it at 5:00 pm each day.
The inner courtyard has a fully functional café, so you can stop and have coffee and a pastry.
Altes Rathaus
Steps away, the Altes Rathaus (Old Town Hall) is a stark contrast to the New Town Hall, a white building with green and burned orange ornamental decoration.
The original
Old Town Hall
was completely destroyed in 1460 by fires, and rebuilt in 1480. Between 1470 by Jörg von Halsbach, who also built the nearby Frauenkirche.
It was destroyed a second time during WWII bombings, and rebuilt to its original plans. 
Currently the Altes Rathaus contains the Spielzeugmuseum (Toy Museum) and is wildly popular with kids and adults alike. 
Mariensäule (Mary's Column) is among the most notorious of monuments in Marienplatz, and this one celebrates the end of the Swedish invasion during the Thirty Years' War.
A gilded icon of the Virgin Mary was sculpted in 1590 by artist Hubert Gerhard, and included on the tower when it was raised in 1638. At each bottom of the column pedestal, there are four figures that symbolize the era when München overcame war, hunger, pestilence, and heresy.
Fischbrunnen (Fish Fountain)
near the Neues Rathaus is a small fountain designed by sculptor Konrad Knoll in 1864. It was destroyed during World War but rebuilt in 1954. 
DIE KIRCHEN
Marienplatz & Altstadt have several churches like the Heilig Geist Kirche, Frauenkirche, Damenstiftskirche, St. Jakob am Anger, Michaelskirche, and Peterskirche.
Most of them are Catholic and are preserved for historical value and beauty, and many are still used for worship at varying times. 
As I have stated in multiple other blogs, I'm not a religious person, but historically, churches have always housed the greatest art and treasures of its people.
Money was always put into the churches long before art galleries and museums came along, so despite my skeptic beliefs, I make it a point to tour old, historic churches as often as I can.
Peterskirche, Munich's oldest Catholic church, is also known as Alter Peter (Old Peter). It has one of the Altstad's greatest views and has also become one of its most popular tourist draws.
You can tour the church and climb to the very top of its tower for an incredible 360-degree view.
Inside, pay respects to the Matron Saint of Single Ladies, Saint Munditia. Here she is lounging like a boss inside her glass tomb, completely bedazzled in gems.
Michaelskirche is a uniquely Jesuit church, and the largest Renaissance church in Europe north of the Alps. 
Frauenkirche, Church of Our Dear Lady, is also known as the Münchner Dom or Munich Cathedral. This is an active church where Catholic masses regularly occur, so tour times are limited and proper attire is required to enter.
Construction of the Frauenkirche began in the 1100s and it is the largest church in Munich.
You can see the white façade of Michaelskirche below, left of center, and the Frauenkirche with a green-capped tower at the bottom center.
Bürgersaalkirche (Citizen's Hall church) is a historical building and a place of worship.
Like the Asamkirche, the Bürgersaalkirche seems to have originally been intended for private use but is open to the public and collaborates with various social and religious organizations.

Two blocks from the Neues Rathaus, visit the Augustiner am Platzl restaurant and brewery. One of my favourite beers ever, the Augustiner Helles, is made here, and quite sadly it has been impossible to find overseas.
Occasionally I still dream of looking out from our balcony in Kieferngarten over at the Gasthof next door showing the World Cup on its giant tv screen, Augustiner Helles in hand, accepting the rowdy noise and sports fanaticism with the still quiet of that garden neighbourhood all as one.
There are many Augustiner locations to choose from, but I believe the Augustiner am Platzl and Augustiner Bräu Ausschank are nearest to Marienplatz.
Marienplatz has its own S-Bahn stop, but you can also reach it from nearby stops in Karlsplatz-Stachus, Isartor, and other stations.
In the past, I have enjoyed taking a different route each time to gain a better understanding of Altstadt from all sides.
Leaving Marienplatz, make your way to the Isartor and be sure to stop by the Bier und Oktoberfestmuseum on the way.
ISARTOR
The third of Munich's most impressive and still-standindg historic gates is the Isar, located a little west of Marienplatz and a bit past the Bier & Oktoberfestmuseum.
The central tower was built in the early 1300s, has the most intact parts than any of the three gates, and it was named after the Isar River that flows nearby. 
Hofbräuhaus Muenchen
Hofbräuhaus is wonderful in its own right, but its insane popularity around the world has turned it into a place primarily filled with other non-locals and tourists which tends to rule out an authentic German or Bavarian experience.
Stop by for a Mass of Bier, order some Käsesuppe, clap for the band, then move on to a local Boatzn or pub.
If you are interested in Opera, stop by the Max-Joseph-Platz to see the Bayerische Staatsoper or plan ahead to reserve tickets and catch a show.
The Residenzmuseum and Cuvillies Theatre (below), are both part of the Residenz complex. Alongside the royal palace, the Residenz Museum, is one of the most important as well as the largest museum in all of Germany.
Any known thing with historical significance related to the Wittelsbach family and their rule is kept here.
You can visit both places as you walk back to the Residenz where you started.
Schwabinger Tor was commissioned by King Ludwig I in the 1840s but destroyed by war and can no longer be seen aside from small remnants.
I am still mentioning it because there is hip, modern neighbourhood budding up around it alongside Leopoldstraß called the Schwabingertor Quarter. It is about a 15 minute drive north of Marienplatz near the Schwabing West area, adjacent to the center of the Englischer Garten.
———————————————
For Your Convenience
As promised, here are two links to the walking route via Google Maps. You can only enter a certain number of places at a time, so I have divided it into two parts.
Get an early start in the morning, give yourself several hours to wander, take all the normal precautions, and don't miss out on anything you find personally interesting for the sake of following these steps.
1. First half here:
Residenz

Maximilianplatz

Alter Botanischer Garten

Karlstor

Museum of Urban and Contemporary Art

Asamkirche

Sendlingertor

Munich Stadtmuseum

Viktualienmarkt

Peterskirche
2. Second part here:
Marienplatz
Bier und Oktoberfest Museum
Isartor
Hofbräuhaus
Bayerische Staatsoper
Residenzmuseum
Cuvillies Theater
Residenz
Staying in Munich for a while? Follow me, somberly, to the Dachau Concentration Camp Memorial Site.
**********************
© Fernwehtun, 2015- Current. Unauthorized use and/or duplication of this material without express and written permission from this site's author and/or owner is strictly prohibited. Excerpts and links may be used, provided that full and clear credit is given to Fernwehtun and Fernwehtun.com with appropriate and specific direction to the original content.